About Meg York
I'm a multi-instrumentalist.  I produce acoustic music for concerts, movement, theater, film scores and community building events.  I have a vast background in dance accompaniment and melodic arrangement.  My global groove ensembles feature sizzling, soaring solos over odd meter rhythms.  Take a look at the Video Page, the Photo Page, and please Subscribe to my site to have full library streaming of all my Music Recordings or be generally supportive. 
After you've seen some of my projects here, contact me about yours:  thank you!
Online Payments
Meg York Featured Video
Beautifully captured acoustic concert of 45 minutes -- perfect accompaniment for your goings-on. 
Features Eric Koenig, Arthur Lefebure, and the sublime Eric Zang. 
If you love it, please donate to cover productions of other similar events. Enjoy!
Alma Amphitheater Albuquerque
San Diego Tour 2021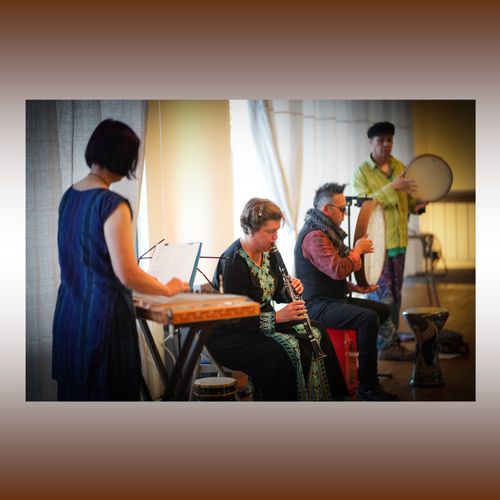 After vaccination in 2021, Pete Jacobs and I presented an in person events at the Alma Amphitheater, a private residence in Albuquerque to a very appreciative ensemble and audience!
Next  we produced the Iranian Culture Exchange Tarab Retreat in Boulder. 
Also in July 2021, Eric Koenig and I traveled to San Diego to visit family and sponsor some boutique events.  Audiences and artists alike appreciate the chance to play together -- I am a vanguard creative.  Although these events feed the soul, none of them pay for themselves:  we are currently working on another grant cycle.  Your donations keep me going!
About Meg York
I grew up off-grid in rural New Mexico, United States in the 1970's in an artistic household and community.  I have become a seasoned musicologist, performer, and band leader in global folk music styles for these past 30 years.  
I was in symphonic band and pit orchestra, marching band, jazz band, music theater, and headed up small ensembles all through school.  I started playing for dancers in the Society for Creative Anachronisms, with Sazlar a Middle East ensemble and got HOOKED playing for all night, fire circle haflas ... weaving notes with wafting sparks into the crisp high desert air... These ladies took me to my first Mendocino Music and Dance Camp in 1990.  The rest is history.  
I started going to Eastern European Folklife Center Balkan Camp in about 1997 and am a Lifetime Member of EEFC.  It's also great to be in the middle of the circle of folks dancers.  I was really lucky to be on staff at Stockton Folkdance Camp two years with Bruce Sagan.  
I got a Bachelor's Degree in Clarinet performance from University of New Mexico, leading and playing in all sorts of Western Classical ensembles on clarinets, saxophones, recorders and even a short stint with  Javanese Gamelan Encantata. I also accompanied and danced in Eva Encinias-Sandovol's Flamenco Dance Program, performing through out the United States and Mexico.  Eva is a powerhouse performer and producer, her vision crystalline and inspiring.  I relished steeping myself in movement by being a corps (ensemble) dancer -- Flamenco with Pablo Rodarte's Dance Espana tours, swing dancing at Denver's Mercury Cafe, the Turnverein Ballroom for 25 years, accompanying and dancing at Colorado Friends of Old Time Music and Dance Contra Dance and Boulder International Folk Dance Events.  I studied with Frankie and Norma Miller, among many other great swing dance teachers through Denver's Community Minded Dance programs.  As the great Frankie Manning of the Savoy Ballroom, New York, said:
"I don't know, but I've been told:  if you keep dancing -- you never grow old".
Most recent studies include Turkey and India with Sedat Gulci, clarinetist, the Gundecha Brothers at the Dhruphad Institute in Bhopal, India, and with Dr. Scott Marcu, University of California Santa Barbara.  
I loved accompanying David Taylor Zikr Dance Company classes and productions, including creating the Atash soundtrack with Farabi Ensemble for Persian fusion choreography by Sharhzad Khorsandi.   Persian Contemporary, Taylor's own Modern choreographies, and TWO Gurdjieff's classics on the same program -- far out!  I toured with Zikr as roadie and got to see the incredible stamina and focus of his dance corps company on the road.  Astonishing. 
I've also trained deeply in the Dahn Yoga Brain Management Training in Sedona with Il Chi Lee from South Korea.  I do enjoy leading private yoga sessions with my family.  The practice unkinks my body after long hours practicing or performing (and being in front of the computer!)
I've done my 10,000 hours. 
I am now known for my world music playing and productions including Tarab Retreat, performing in Denver Center Performing Arts'  Klezmer play by Paula Vogel, Indecent, co-founding the Farabi Iranian Ensemble, and heading up the Eastern European style party band, Klezmerize.   I've played for Circus Luminous in Santa Fe, at Arise Festival for Monkey Chant, and countless Society for Creative Anachronisms all night music jams.   Pete Jacobs and I have had many co-productions over the years including a Yuval Ron Colorado tour, playing Turkish music on NPR in Paonia with Jon Seligman and David Alderdice, playing with Zvek Sufi Ensemble for numerous outreach events over the years with Zuruna to benefit International Rescue Committee and Musical Ambassadors of Peace.   
I am an Athena Project Artist in Residence, and I join Hal Aqua at Dazzle Jazz and the Mizel Museum/Mercury Cafe Denver KlezFests. I love sitting in with Gora Gora Orkestar and Hadgaba Balkan Band! 
Community Outreach includes Denver Sister Cities and Denver Spring Institute events, Musical Ambassadors of Peace Benefit Concerts,  playing for Colorado Senate sessions, Yo Yo Ma's 2018 Colorado Tour, Roshni Denver and the Boulder Balkan Bash.   
I've met my closest friends and colleagues through playing music for their movement -- through that trans-personal connection.  There is NOTHING else like playing for live movement.   
And here's the thing:  I could never learn choreography well -- as a dancer -- I can only really thrive with improvisation.  I have that same feeling for sharing my music for movement -- keep the conversation between melody and movement alive. 
Until we can be in person!