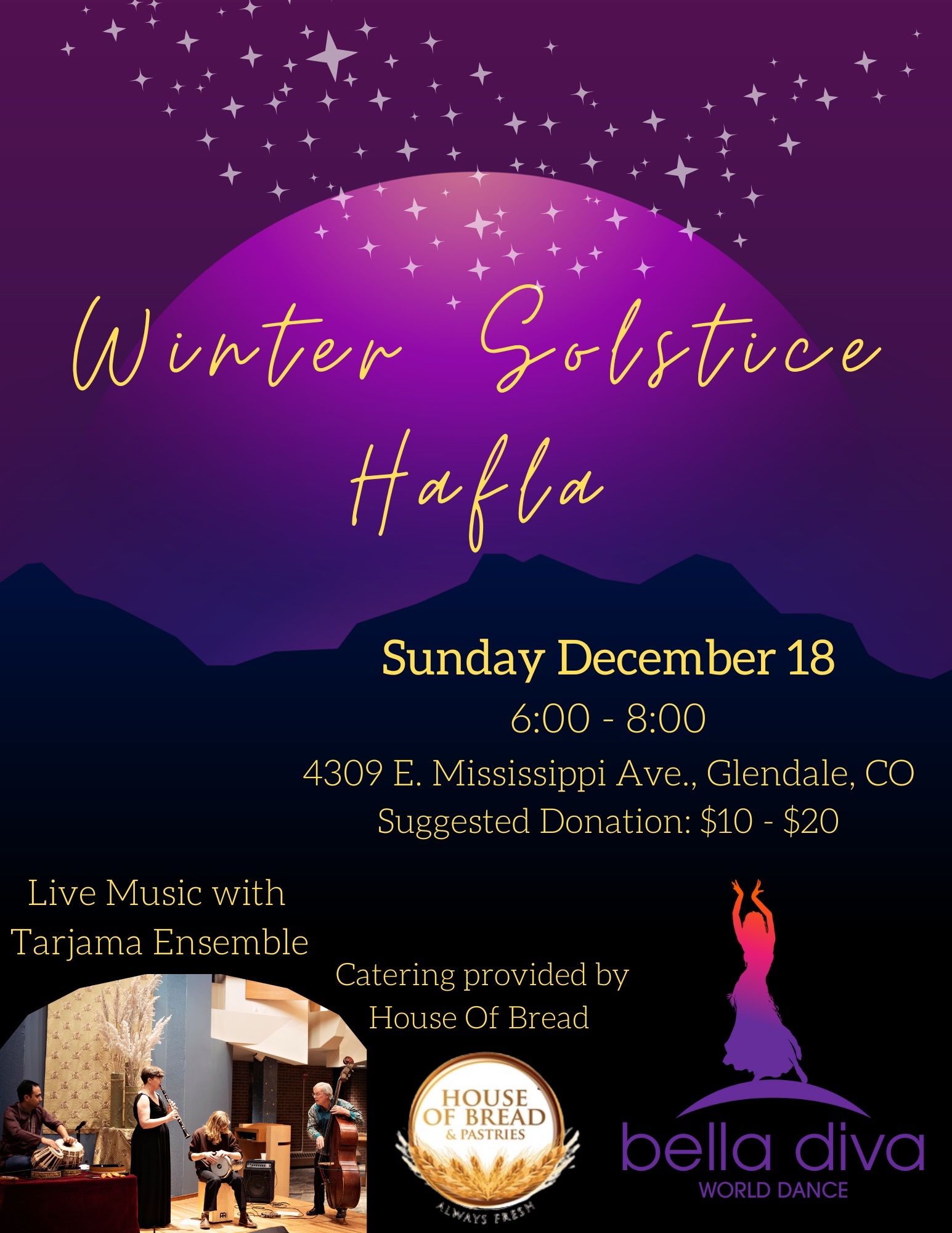 Join Bella Diva and Tarjama Ensemble for an end of year hafla celebration! 
The evening will include a short lesson on dance improvisation from our musicians at 6:00 pm, followed by live music and an open dance floor and food catered by House of Bread. 
Tarjama Ensemble is a multi-discipline performance outreach organization that bridges refugee and immigrant artists, their allies and audiences. 
Our artists include: 
Nepalese tabla master musician Nabin Shrestha. Nabin was born and raised in Nepal and now resides in Westminster. 
Iranian spoken word artist Mina Akbari. Mina will recite poetry in Farsi with English translation, a subtle way to bring awareness to Iran's beautiful culture during troubled times. 
Arthur Lefebure, age 17, joins us on percussion. Arthur is an amazing Charleston swing dance soloist as well. 
Pete Jacobs and Meg York have played Middle Eastern music together for nearly two decade, sharing their cultural connection insights through their world dance music performances. 
Eric Koenig, of Ashkenazi heritage, is steeped in Arabic and Turkish party dances and loves to share his insights into movement improvisation. 
Brian Degitz - Bella Diva's staff darbuka player and accompanist. 
Tarjama is partnering with Bella Diva World Dance, a Denver-based international dance company striving to bring the magic of global movement to Colorado women (and men), while also creating a community for their students. Bella Diva is a perfect partner for Tarjama because they have Arabic Belly Dance, Indian Bollywood & Persian dance classes offered at their studio. 
Both Bella Diva and Tarjama have LGTBQ staff and students. 
All of Tarjama's concerts are suggested donation, all ages, and general admission. 
Suggested donation between $10-$20 at the door.