Here's a reposting of my newsletter:
Hey!
So there *is some small dance space at the concert at Ken Gilman's house on New Year's Day, so come on out and shake it off for a great new start!
---
Here's the FB Event LINK if you're into that kind of thing:  however, please RSVP to our host, Mr. Gilman at kagilman@gmail.com.  Don't let the book of faces fool you -- it's a little over half full already.  I'm sure we'll have room, but please do the right thing and RSVP via email.   
---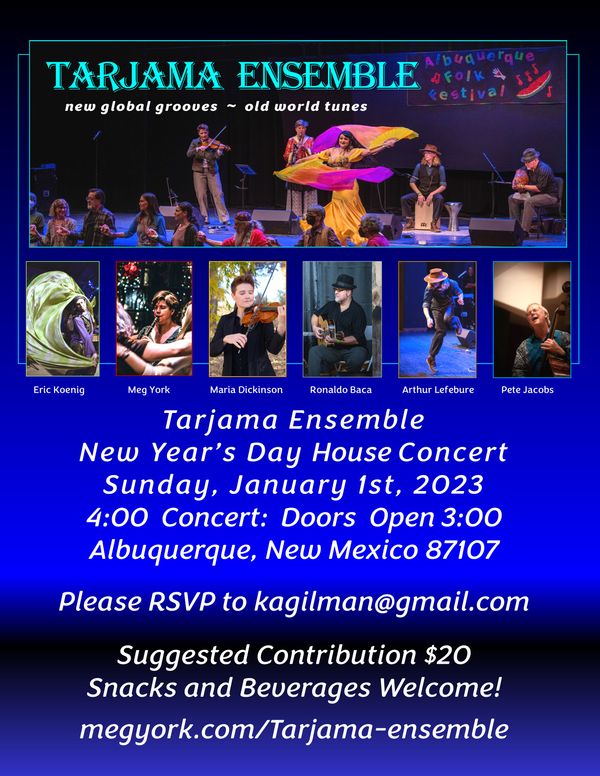 ---
This is the time of year that many of my friends and colleagues send out a year in review email.  I'll try:  the highlights that stick out for me are:
Alb Folk Fest Van Adventure with my son Arthur Lefebure, plus getting to play with Maria Dickinson for the first time, and reconnect with Ronaldo Baca -- that was such a treat!  Here's one of my favorite pictures ever, thanks to the lovely and talented Rachael Rodgers: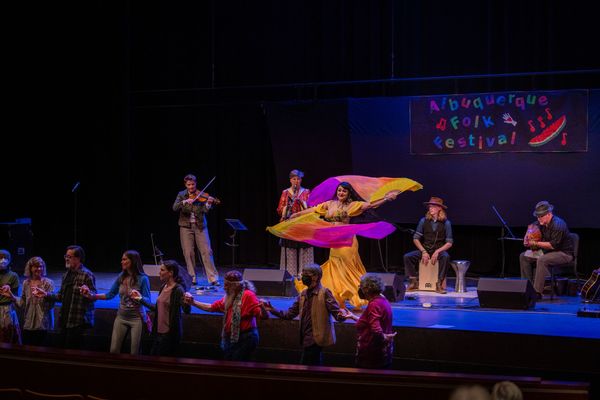 Another highlight was playing with Sam and Santiago of the Tynker Family Circus for Sirena Studio's hafla.  Amazing.  Sadly, I don't have photos.  If you have some, would you send them my way? 
---
I also loved getting to know Nabin Shrestha more -- what an exquisite musician and general all around good human.  Here's a picture of that concert with my BFF Pete Jacobs: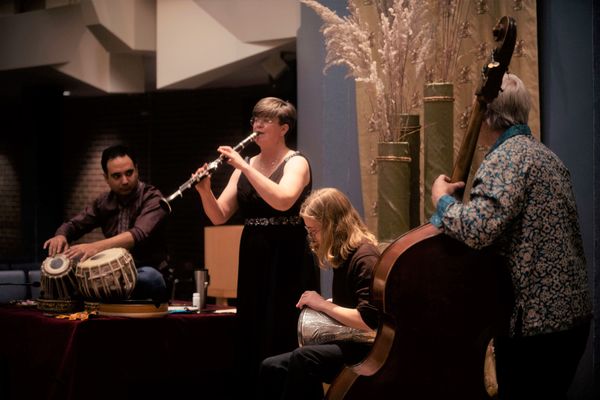 Photo: Lisa Siciliano 
I also got to play for the Colorado Ren Festival for the first time, and I'll be forever grateful for Misti Bernard, The fabulous Boom Boom Shake, The Reeling Rogues, The Crimson Pirates and The incomparable Angels in Disguise troupes for taking me under their wings and teaching me the ropes.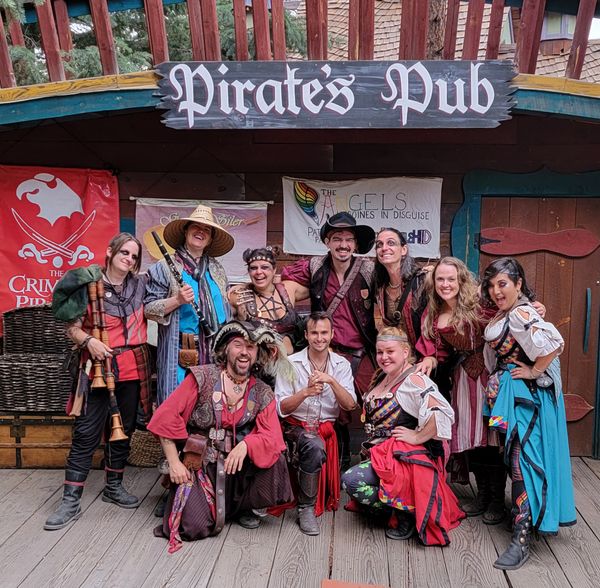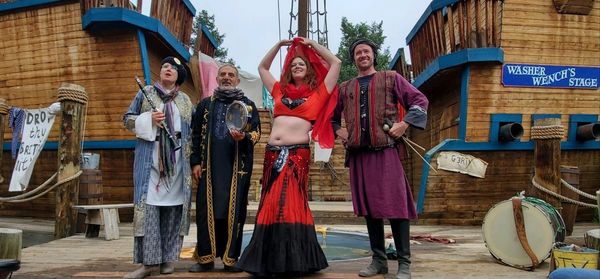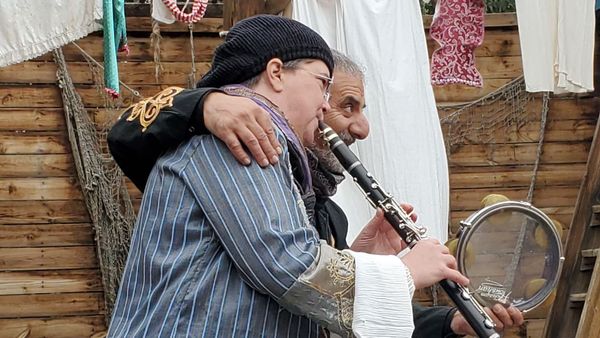 photo:  Eric Koenig
---
Tarab Retreat 2022 was partially funded by Alex Wilson Legacy fund. 
---
We flew Faisal Zedan out from the Bay Area and played several fun gigs with him -- too many actually!  We started with the Ren Fest, then did an out reach at Together Tuesday at Project Worthmore resettlement center, then did a Summer Solstice concert at Lumonics Light and Sound, Wednesday workshop then a dinner gig at a fancy Lebanese restaurant Crave, then a concert on Thursday at Unity Columbine Spiritual Center, a recording session at FTM studios on Friday with Nabin, then the second Ren Fest weekend. 
---
A big shout out goes to Susan Frank for being one of my Patrons each month as well as taking over on organizing Faisal's classes -- go on his website if you're interested in that, too.
---
I got a gig that fell out of the sky for me: playing two klezmer clarinet pieces with the incredible Kantorei.  Here's a LINK to their program. 
I'll look forward to sharing the video from Friday's concert when I get the link! What an amazing group of vocalists and instrumentalists.  And Joel Rinsema is The. Clearest. Conductor. I've ever had the pleasure to work with.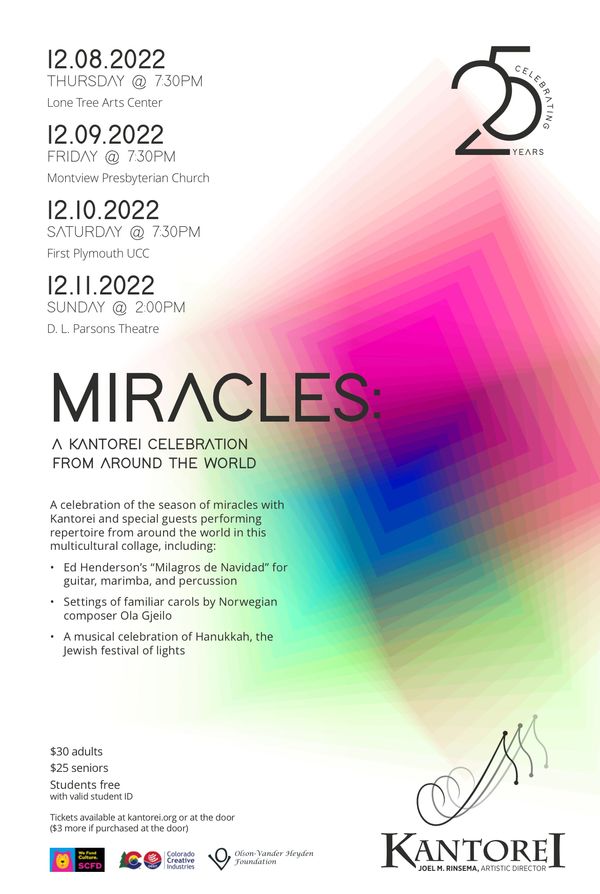 ---
We have driven about 12,000 miles on the Van since we got it.  It's the winter and we're going to try out the electric heater with extension cord next week.  I finally found the spilled kombucha -- there was just a bit on the floorboards, and the whole van smelled deliciously like a big frosty glass of fermented mushroom juice.  I mean, I love it, bu it's not for everyone. 
But here're a few of my favorite Van pix: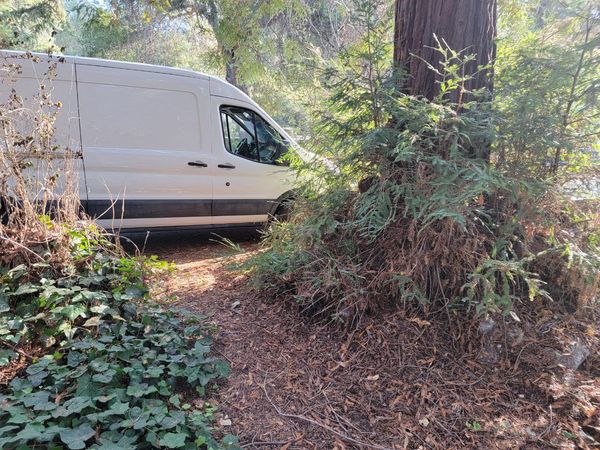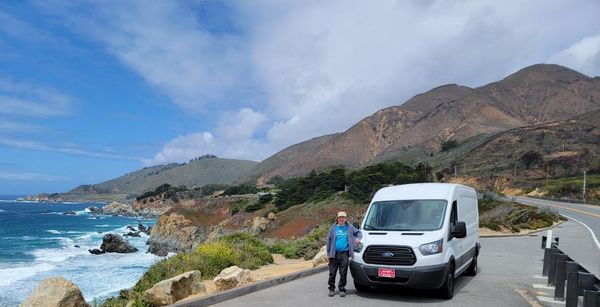 California seacoast is the perfect environment for Van Life.  Not too hot, not too cold, just right.  
---
I succeeded in getting Musical Ambassadors of Peace set up as a vendor with the Boulder Arts Commission!  Thank you Pete for helping, but again!  And, they gave us a grant for a concert in February 18, 2023! 
Here's the updated flier for that: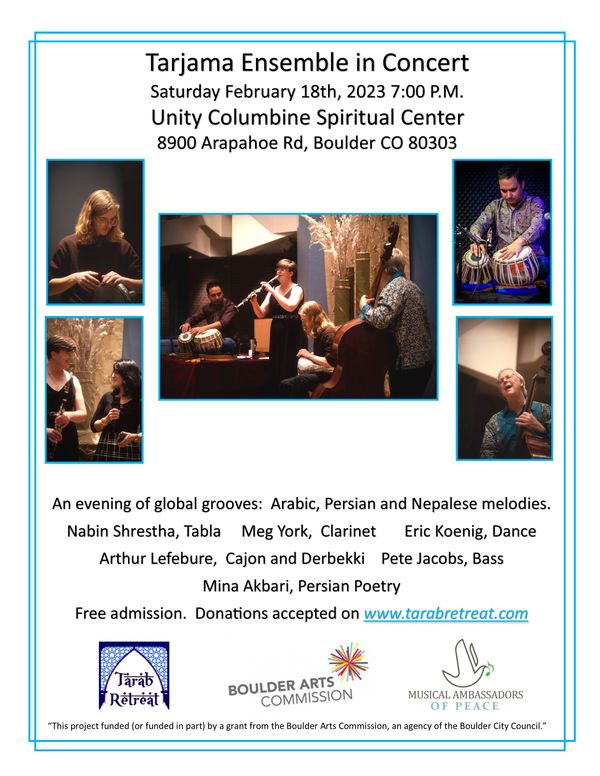 We'll reprise the beautiful concert we did at First Plymouth.  Here's the live stream LINK.
---
Coming up:
Recording session December 29th and 30 at Third Eye Studio
Concert Jan 1 in North Valley
NM Tarjama Ronaldo/Maria/Arthur/Pete version,
Concert February 18 Boulder 
CO Tarjama Nabin/Maria/Pete/Arthur
Recording session late February next week
---
---
I'm moving to New Mexico with Eric end of April.  We've  been looking at some properties and will check out a few more this next month on our way back. 
Let me know if you hear of anyone with a property for sale or lease in Las Vegas, NM. That would be lovely!  
There's more, but I think this is enough!  Honestly, it's been quite a creative period of time.  I've been really manic and then nappy. I really only share the ups with you all, but rest assured, there are downtimes as well. I just feel it's my responsibility to remind us all of the tarab-full moments to counterbalance the personal and cultural depressions we all experience.  
I recently heard a colleague mention that the best notes we play are passed on from our gurus, and the ones that don't quite sound in place, well, those are are ours, alone.  I couldn't agree more.
Happy solstice and hope to see you soon online or in person.  
Cheers
Meg
Music and dance build bridges from the past to the future by basking in the present